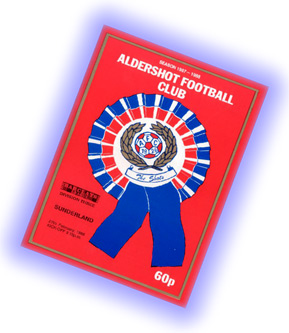 ALDERSHOT : Lange, Berry, Phillips, Langley, Smith, Anderson, Ring, Johnson, Riley, McDonald, Bedford Unused Subs : Holsgrove, Common.


SUNDERLAND : Hesford, Kay, Agboola, Bennett, McPhail, Atkinson (Ord), Owers, Cornforth, (Lemon), Gates, Gabbiadini, Armstrong.


Attendance : 5,010

The SHOTS beat SUNDERLAND ?
February 27th 1988
ALDERSHOT (2) 3 SUNDERLAND (2) 2
One of those never to be forgotten afternoons when the Shots pulled off something just a little bit special, often overlooked following the desperate financial struggles of the final years was that Aldershot were a decent side at their level. High flying Division Three leaders Sunderland made their first trip to the Rec to face a Shots side down to the bare bones with key men Glen Burvill, Paul Roberts and David Barnes suspended plus Steve Wignall ruled out with injury which meant that a far from fully fit Colin Smith just had to play. However a tremendous game ensued and the visitors took the lead after Colin Smith was forced to handle a shot from former Ipswich Town legend Eric Gates in the box. John McPhail converted the pen on eight minutes and the signs looked ominous for the Shots, however Glyn Riley equalised from close range nipping in on a loose ball at the far post on seventeen minutes, firing high into the net. However yet again the visitors went ahead again on twenty three minutes through Marco Gabbiadini, after a mistimed back pass from Tommy Langley. The former Chelsea man made amends six minutes later grabbing an equaliser after Mike Ring's shot was saved and Steve Berry had a goal bound effort cleared from the line, leaving Langley to pounce close in. Two each at the break and barely time for the crowd to settle for the second period when former Sunderland man Steve Berry got the winner two minutes after the restart, and what a goal it was when following a corner and good work from Ian McDonald the ball fell to Berry all of 25 yards from the Sunderland goal. Immediately he struck home a fiece effort. Don't believe me?!?